Proper wood floor cleaning? Wooden floors are usually very delicate and require very specific care, especially those related to wooden floor cleaning and maintenance. For this reason, from SCS Group Cleaning Solution Cleaning we address this issue on our blog.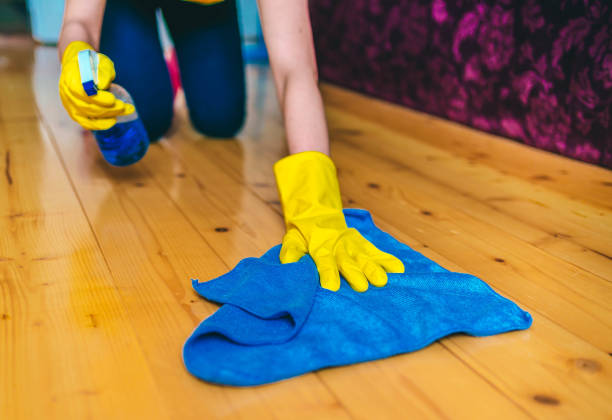 Information 
1 Wooden floor: how to clean them properly

1.1 Cleaning wooden floors with chemical products

1.2 Cleaning wooden floors with household products

1.3 Do you need more information about SCS Group Cleaning Solution floor cleaning? Contact us!
Wooden floors: how to clean them properly
To clean wooden floors, follow one of the following two procedures:
Cleaning of wooden floors with chemical products
Chemical products must be used with care, regardless of the surface on which they must be applied. However, regarding wooden floors, this care must be even greater, since the materials from which it is made are very sensitive. 
For this reason, it is best that the technician or user who is going to use a chemical cleaning product follow the instructions set forth by the manufacturer. These will not only tell you the amounts to apply to the surface but also what accessories to bring for use and what precautions to take. 
However, here are some generic steps so that you have a brief guide to the use of chemical products on wooden floors :
Reduce and dissolve an amount of the product in cold, hot or lukewarm water.

Carry out the cleaning of wooden floors with a specific mop or mop for these surfaces. 

Dry the floor in the air or with a very soft cloth.

If you want an even glossier finish, use a specific wax or polish for wooden floors.
Cleaning wooden floors with homemade products
Natural or homemade products, manufactured by the users themselves or in small factories, can also be used to clean wooden floors. These incorporate natural and less aggressive ingredients with the surface and with the skin of the technicians. 
Some of the most frequent and useful ingredients to make homemade cleaning products with which to clean wooden floors are the following:
Essential oils

: the most common are tea tree,

lavender

, rosemary, eucalyptus, pine, or lemon. Just putting a few drops in the cleaning water is enough. They will give aroma and disinfect.

Cleaning vinegar with soap and warm water

.

Sodium bicarbonate

: as well as on other surfaces such as marble, it does not matter how much of it is used, on wood it does. For this reason, we recommend it to lower a little bicarbonate in warm water.
For many who want a quick and easy homemade solution, there is nothing better than water and vinegar. Cleaning with vinegar and water is cheap, safe for the environment, and is ideal for cleaning many household items.
But we recommend that you do not use them to clean hardwood floors.
Using water and vinegar as a homemade solution for cleaning hardwood floors can have a negative effect on them. It is important to remember that when you clean hardwood floors you are not cleaning the wood, but the chemical finish on the surface. The finish is the layer that protects hardwood floors.
Since vinegar is an acid, it will eventually damage the surface finish off the floor and, over time, reduce its shine, leaving the floor with a dull appearance. Using water and vinegar as a hardwood floor cleaner can also result in excess water on the floor, causing the wood to swell and discolor.
The best way to clean hardwood floors 
When you have to clean your hardwood floors, remember the following tips:
To remove dirt particles and grit from the floor, sweep or mop it.

Use a neutral pH cleaner for hardwood floors.

Clean the floor in sections by lightly moistening it with a spray bottle. Do not apply too much liquid on the floor.

Use a microfiber mop to clean it. Traditional mops can work but often leave an excessive amount of water on the floor.